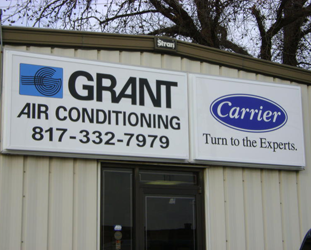 For more than 50 years, generations of families and businesses of all sizes in the Fort Worth area and surrounding Metroplex have entrusted their residential and commercial cooling and heating needs to Grant Air.
Established in 1959, Grant Air was founded on the principles of quality, honesty and fair pricing—traits that continue to distinguish the company. Over the years, Grant Air has grown with the community and was among the first Carrier dealers in the area. In 2009, Grant Air received the distinguished President's Award, the manufacturer's highest honor, recognizing Carrier dealers who exemplify leadership and management, customer satisfaction, expertise, business growth and operational excellence.
Thanks to this level of professionalism and quality service, Grant Air has built a reputation of doing the job right the first time. Customers routinely refer family, friends and neighbors to Grant Air, making this one of the city's oldest and most respected heating and air conditioning companies.